The Key To Happiness Is Excitement For The Future
I am pretty excited today!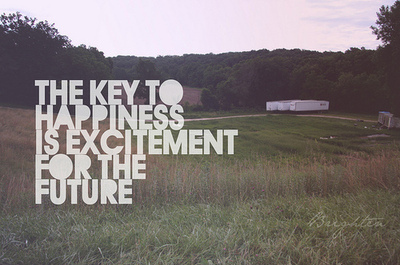 As frustrated as we have been lately, we have also been equally excited/anxious. We still have some issues we are working though, but have faith that God will guide us.
We had originally planned on moving downtown, then came news of moving to Florida, then of course plans changed again and we were told we were staying here. We looked downtown again for a loft, but nothing in our price range was available in the areas we wanted to live. We found an awesome apartment complex near where we live now. The only problem is we both have horrible credit (something we are in the process of working on) and feared we wouldn't be approved. We kept our faith and applied anyway…
It is a really nice tight knit community and since we really don't know anyone here we thought this would be a great way to meet people. Plus the place is amazing, has a ton of amenities and with our rent being less, it will help us to get caught back up on our previous bills. We waited over two weeks and finally heard back and we were approved! Our move in date is February 28th. We plan on staying here in Springfield for at least 16 more months. Then I am sure we will be on to another city 😉 We are stoked to move though! After Christmas I will finish packing up the house and get our garage sales started! Woot!!!
The next thing I am excited about is my weight is officially 129lbs!!! This means my macros change starting today.
My calories will be set at 1574. This is just 28 calories lower than before. The numbers on the top line are my totals for the day. Since starting IIFYM I am seeing myself getting leaner, my muscles seem more full and I still feel strong! I am loving the balance of this lifestyle and being able to still enjoy the foods and drinks that I was only allowing myself on cheat days and actually tended to binge on. To be able to still have indulgences and not feel guilty has made my journey so much more enjoyable, not to mention I feel now that I am making much better progress than before!!!
As I stated in a previous post, I started incorporating refeeds and I am excited to see how that will help me progress as well! My next is on the Friday after Christmas 😉 I am stoked! I am waiting till after Christmas, because it has to be a low fat day and you know I am gonna get down on some ham and Christmas fixin's ha ha ha.
I hope you all enjoy the weekend!
HUGE Thank you as always to my sponsor Saturn Supplements! Check them out!
Use code SBSC for a 10% savings on your total order 😉
Have  a fabulously fit day!